Tip – Offer – Bonus #3
5 Little Known Tools to Organize
5 Little Known Tools to Organize Your Online Information. We have here a great post on some the top tools to help you organize the web. In today's post, I go into listing the first 5 of 10 lesser known tools that can help you to become a lot more organized and efficient with your online tasks. Later I have 5 more to add to the list.
1. Blossom – an awesome web app we use daily at Buffer, both to keep track of feature development and also for personal goal tracking.
2. Draftsapp – a super slick and easy to use iPhone app. I use this one to capture quick drafts – whether it be a tweet, a list, a blog post – and then export it to a bunch of places across the web – from Dropbox, to Evernote and even to Buffer.
3. MindMeister – a really amazing solution to help you to brainstorm your most important tasks and capture as mind maps.
4. Kippt – a brand new approach to keeping your bookmarks. You simply share them as public streams and engage in an amazing feed of content in return.
5. Dragon Dictation – do you have great thoughts you speak out loud and forget to write down? Here's an awesome app that does it all for you – simply record your voice and receive it back as transcribed text.
Today's Tip Is From: Buffer.com
How To Setup Your First Membership
Let me ask you...
Would you rather get paid $97 per sale or $17/mo from a customer who may stay for the next 6-12 months?
With membership sites, your customer gets well acquainted with who you are and the quality of the information and content you put out. So, as long as you provide great content, then guess who becomes your loyal fan that you can sell more products to?
Think about it. You buy a product from Vendor A about a year ago and then Vendor A tries to contact you about an upcoming sale. Most likely you've already forgotten about Vendor A and why you bought their product in the first place.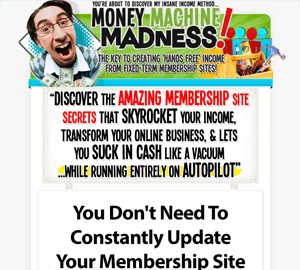 And that, my friend is your solution. This is why I've gone ahead and created a full blown video course dedicated to teaching you how to create a membership site that you didn't have to attend to every month.
Video course we'll cover...
Module 1 - Introduction & The Tools You'll Need
Module 2 - Roughing Out Your Membership
Module 3 - Organizing Your Content
Module 4 - Creating Value & High Stick Rates
Module 5 - Creating Multiple 'Thank You' Pages
Module 6 - PayPal Subscription Button Creation
Module 7 - Site Upload & Getting URLs
Module 8 - Content Delivery System
Module 9 - Finalizing & Testing
Module 10 - Reducing Support Tickets
With that said, you can put it all in action and start creating your profit-pulling automated membership machine today, and avoid the mistakes that cost me thousands of dollars and hours of time.
$197 Value... discounted to $27 or LESS!
7 Super Simple Traffic Tactics
Today's Bonus: 
Free Download! 7 Proven Strategies to Boost Your Website Traffic with Just 30 Minutes of Work Per Day!
We'll reveal 2 powerful tools that you can use RIGHT NOW to multiply your traffic effortlessly... (and they're free to use!)
Claim Your Bonus Today!
LOOK FOR MORE...
ONLINE TIPS and TRICKS | MONEY SAVING OFFERS | SUPER AWESOME BONUSES
Look for more online tips, special offers and awesome bonuses every 2 or 3 weeks. Fun informative online tips and tricks to help make your online experience more enjoyable. Special money saving offers on infoproducts valued at $67 to $97 dollars and more, discounted to $27 or LESS! Don't forget our "Super Awesome Bonuses" including videos, ebooks, and audio files to images and more at no cost to you... Access Free Every-time!
To Your Success!
Rick
Never Alone Online