Tip – Offer – Bonus #4
5 More Little Known Tools to Organize
In a previous post a few days ago we learned about "5 Little Known Tools to Organize Online Information" on the top tools to help you organize the web. In today's post, I thought I'd add a few more lesser known tools that can help you to become a lot more organized and efficient with your online tasks.
...so starting where we left of...
6. Zootool – another great solution that will save your bookmarks in a very visual and easy to glance page, well worth checking out.
7. IFTTT – after a recent makeover, it's now a lot simpler to use. Easy to automate all sorts of tasks across the web and even offline. One of my 'favorite' tools for Buffering a retweet.
8. Trello – somewhat similar to the above mentioned Blossom, Trello is an awesome tool to help you track your progress, ideas and projects in one place.
9. Slice – if you're shopping a lot online and want to keep track of your receipts more easily, I've found Slice to be very handy. Definitely gets onto this list.
10. Pipedrive – last but definitely not least is Pipedrive. An amazing tool to keep track of sales, moving you along a pipeline to close those deals.
Bonus: Stride – Another amazing tool I only discovered recently for closing deals fast in an intuitive and incredibly well designed interface is Stride.
Brought By: >Buffer.com
17 Simple Steps to Sales Funnel Profits
If you pay close attention to what the gurus are doing you'll notice that they always ask you to sign up. Then they present an offer to you also known as an OTO or up-sell or special offer.
You need to understand that they do this to break even or at least generate a small profit for the cost of acquiring those leads. Not everyone buys, but a small percentage do. And those that do allow the guru to continue to spend on advertising and build their list.
Most beginners don't understand this because they're at the receiving end. But what I'm going to show you will change all that and turn the tables around. When setup right, a sales funnel will allow you to profit even when you break even upfront when paying for advertising.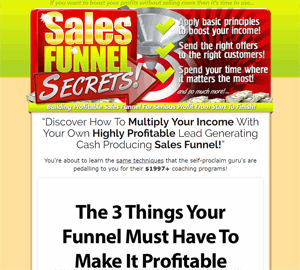 And on top of that will allow you to scale your business and find other sources of traffic so you know what to except with a given amount of visitors.
Inside this course you'll discover...
Module #1: What Is A Sales Funnel And Why Do I Need One?
Module #2: The 3 Things Your Funnel Must Have
Module #3: How To Get Good Product Ideas For Your Offers
Module #4: What Makes A Great Free Offer
Module #5: How To Create An Effective Squeeze Page
Module #6: The Best Ways To Deliver Your Products
Module #7: How To Create PDF Reports And eBooks
Module #8: The Basics Of Recording Video Products
Module #9: The Free Html Editor Software You Can Use
Module #10: A Couple Different Wordpress Themes
Module #11: The Free FTP Software To Upload All Files
Module #12: Product Types That Sell Well As OTOs And Add-ons
Module #13: Secrets Of Pricing You Frontend And Backend
Module #14: Up-Sells You Should Have To Maximize Profits
Module #15: How You Can Increase Customer Value On The Backend
Module #16: Understanding EPC And Customer Value
Module #17: How To Monetize Your Download Page
and so much more!...
Plus you'll also be able to pick up a bonus report 'Low Ticket, Mid Ticket And High Ticket Product Ideas!' Check out the full details from the link below...
$197 Value... discounted to $27 or LESS!
10 Ways to Create Digital Products
Today's Bonus: Free Download! 10 Quick and Easy Ways to Create Your Next Digital Product Fast!... Even If You've NEVER Created One Before! (Product Creation, Digital Products)
Discover The #1 Fastest and Easiest way to create your own products using other people's content LEGALLY using a 6-step process!... (most newbies will never take advantage of this).
Claim Your Bonus Today!
LOOK FOR MORE...
ONLINE TIPS and TRICKS | MONEY SAVING OFFERS | SUPER AWESOME BONUSES
Look for more online tips, special offers and awesome bonuses every 2 or 3 weeks. Fun informative online tips and tricks to help make your online experience more enjoyable. Special money saving offers on infoproducts valued at $67 to $97 dollars and more, discounted to $27 or LESS! Don't forget our "Super Awesome Bonuses" including videos, ebooks, and audio files to images and more at no cost to you... Access Free Every-time!
To Your Success!
Rick
Never Alone Online